Service in New York, New Jersey and Pennsylvania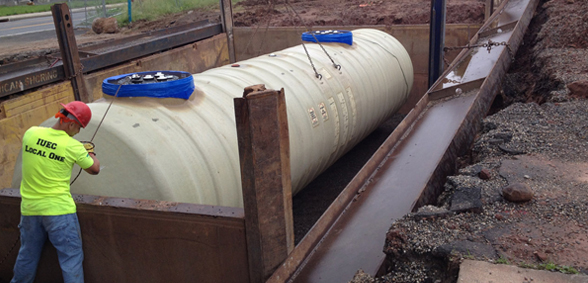 Underground and Above Ground Tank Solutions
From a homeowner with a small fuel oil tank to a Fortune 500 Company with multiple campuses, American Petroleum Equipment & Construction Company, Inc. (APECCO) installs, inspects and removes the full range of petroleum storage tanks. We proudly provide a selection of tanks that, upon installation, are guaranteed by warranty.
Storage tanks are available in a variety of sizes and shapes, including vertical and horizontal cylindrical; open top and closed top; flat bottom, cone bottom, slope bottom and dish bottom. Storage tanks available through APECCO include:
Underground Storage Tanks
An Underground Storage Tank (UST) is defined as a tank and any underground piping connected to the tank that has at least 90 percent of its combined volume underground.
APECCO offers Underground Storage Tanks from the following providers:
Steel Tanks
Highland Tank
Hoover Container Solutions
Mass Tank
Modern Tank
Fiberglass Tanks
Containment Solutions, Inc.
Aboveground Storage Tanks
An aboveground storage tank (AST) is defined as any storage tank that is aboveground, regardless of whether it is utilized to store petroleum products, hazardous waste, or other hazardous material.
APECCO offers Aboveground Storage Tanks from the following providers:
Hoover Tank: Vault™ and UL142
Roth Industries: Residential double-wall (vertical & horizontal)
Compressed Natural Gas Storage Tanks
Commonly called CNG, these tanks house methane stored at high pressure, typically used in place of petroleum, diesel fuel or propane. Many customers prefer CNG because its combustion produces fewer undesirable gases than other traditional fuels.
Oil/Water Separators
An Oil/Water Separator (OWS) is equipment to separate oil and water mixtures into their separate components. They are most commonly used to separate oil from oily waste water (such as bilge water) before the waste water is discharged into the environment.
APECCO offers Oil/Water Separators from the following providers:
Hoover Container Solutions, Inc.
Highland Tank
For Emergency Response
American Petroleum Equipment & Construction Company, Inc. (APECCO) is available to reach 24 hours a day.
Call 845.778.5110 Now!